Jazzy Amra's Debut Album 'AMRA' Details Her Story Of Triumph Over Pain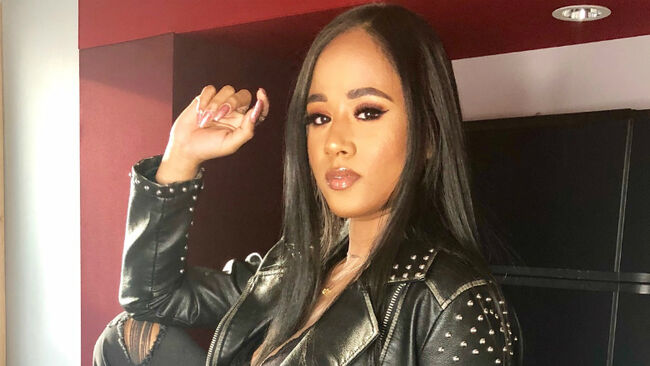 World, meet Jazzy Amra .
The Wyclef Jean -backed singer is ready to make her mark on the music industry, and for her introduction, she's released her six-track debut album, AMRA .
When you breakdown the project , it's clear it is an ode to Jazzy's life thus far. She dives deep into her childhood (heavily reminiscing on her life in the Bronx), her complicated relationship with her mother, her hopes, her dreams —it is ultimately an unfiltered recollection of her journey through life's best and most challenging moments, and a precursor to her "big plans ahead."
The album, which features her uptempo single "Waste of Time," looks back into the past, as much as it looks ahead to the future, telling relatable stories of love, heartbreak, independence, and growth — all paths one navigates when finding themselves.
The 23-year-old singer also manages to capture the multiple sides of herself: Jazzy the artist, the daughter, the songwriter, and the lover. Make no mistake though, AMRA is just the beginning for the determined artist, who recently spoke with iHeartRadio about her debut album, calling it her story of strength.
Scroll on to read our Q&A with the rising star!
What inspired AMRA ?
AMRA is my first body of work ever. The inspiration behind it was my childhood and my everyday life today. With this album I wanted to introduce myself to the world nice and sweet —show them what I come from, what I've been through, and how, despite the hardships, I fought through and stood tall enough to be comfortable and tell my story. I mainly wanted to let people know they are not alone. My main goal with AMRA is to show people that even [when] life gets hard you're a warrior and you are stronger than you think.
Do you have a favorite song on the album?
I love the whole album, but if I had to choose two it would be "Jazmine's Diary" and "Big Plans." "Jazmine's Diary" is one of my favorites because I got very vulnerable and transparent with it. I'll never forget the process of recording and writing the record. I cried, I laughed, I yelled. I put it all on the table for the people I knew needed to hear this kind message in a song. Just yesterday a girl reached out to me via DM on Instagram and told me how much that song meant to her. She told me she lost her mother and related to the record, and that's what I make music for —to uplift lives and help people get through their days. My second favorite song is "Big Plans" and that's because I'm Dominican, so hearing how Wyclef blended hip-hop drums with bachata is crazy! I've never heard that before.. I think he started something.
The first track on AMRA is "Kingsbridge Road." Why was it important for you to include a shout out to your hometown on your debut album? What does the Bronx mean to you, and how do you think the Bronx community has influenced your music.
I grew up on Kingsbridge Road. It was only right for me to shout out my neighborhood. Being from Kingsbridge is a different kind of vibe, good and bad. So many kids that live in my neighborhood tell me I've inspired them to dream big and that they are proud that I'm putting on for the neighborhood. They tell me that I've given them hope they never had. When you're coming from the Bronx and you're broke it's really hard to see the light at the end of the tunnel, but if if they see a person just like them coming from the same circumstances striving to be successful, they know they can do it too.
What do you want listeners of AMRA to walk away with after hearing the full project?
My message with AMRA is: 'You are not alone and despite the hardships you've been though you can find your purpose and be somebody in life, it doesn't matter what it is. We all have a purpose to fulfill here on earth. Mine is to be the voice of those who need motivation to get up every morning and keep pushing in life.'
What was it like working with Wyclef Jean on the album? How would you describe you all's recording/writing process?  
Working with Wyclef is always a blessing. That man is a musical genius. With Wyclef there are no rules in the studio and that's what I love about him! First off we don't use a booth or headphones, just a regular microphone out in the open. And when recording a song I can sit on the couch, stand, and even sit on the floor... as long as I get the feeling I'm trying to get across in the music. During our writing process we bounce ideas off of each other and create. It's all about the vibe.
What was behind your decision to include "Letter to Yanni" on the album? Was it difficult opening about your mother's struggles with addiction.
The beauty of "Letter to Yanni" is that Wyclef and I were in the studio working on "Jazmine's Diary", and he stopped the session and he asked me, "if there's anything you could tell your mother what would it be? If you could write her a letter right now what would you say?" Little did I know he was voice recording me the whole time on his phone —I swear he's a genius. Had I known he was recording I don't think y'all would have heard such raw emotion. I think I would have held back a little.
"Big Plans" is a vibe and it's one of my favorites on the album. Do you have plans to sing in Spanish in the future?
Absolutely! That's my main goal. I want to venture out into the Latin community too. I'm Dominican so I'm gonna need all my Dominicans and Hispanics to look out for me because I'm coming!
Lastly, what does AMRA mean to you?
AMRA means everything to me. And it's only the beginning. I have so much more to offer to the world.
This conversation has been edited for clarity and length.