'Love & Hip Hop' Star Tommie Lee Arrested Twice Within 24 Hours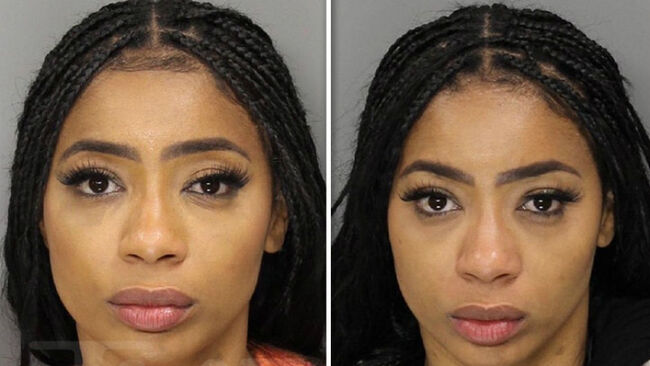 Tommie Lee was arrested for the second time in 24 hours on Wednesday (October 18) night.
The Love & Hip Hop: Atlanta star, whose real name is Atasha Jefferson, was taken into custody for aggravated stalking and obstruction, hours after she was released from jail for her previous arrest earlier the in the day.
On Tuesday (October 17), Tommie was charged with battery, aggravated assault, and child cruelty for allegedly slamming her 12-year-old daughter into a school locker the day prior, TMZ reports. After posting $27,000 bond, the 34-year-old reality star was released under the condition she did not contact her daughter. However, within three hours of her release, Tommie allegedly contacted her child, which landed her back in handcuffs on Wednesday night.
According to WSB-TV, during her second arrest, Tommie allegedly refused to come to her front door when police arrived. Instead, police told the news station, she tried hiding in her attic. She's currently being held in the Cobb County Jail without bail.
Tommie's arrests came days after her LHHATL co-star Erica Mena was locked up for possession of marijuana in Johns Creek, Georgia on Friday (October 12). Erica's arrest followed an alleged domestic violence dispute between her and her boyfriend Clifford Dixon.
According to TMZ, Cliff was first taken into custody after he allegedly kicked through a bedroom door to reach Erica, who had locked herself in the room after an argument between the two allegedly turned physical. Per the police report, which was obtained by the site, Erica and Cliff's roommates heard them fighting upstairs, and then reportedly heard someone get slapped. While Cliff denied breaking through the door, two alleged witnesses told cops a different story, which led to his arrest. Since the home where the fight took place was in Erica's name, Cliff was arrested for criminal trespass.
Erica was also placed under arrest after she reportedly admitted to smoking marijuana and cops found THC wax (weed wax) in her bedroom and kitchen.
Photo: TMZ/Cobb County Police Department